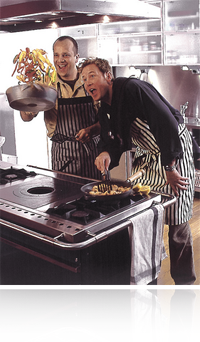 Founded from our passion for cooking, KitchenShop was created to be a helping hand to all those who, like us, are passionate about tasty joys of life.
We started the business (in 2008) with the intention of providing the greatest kitchen products to food enthusiasts. Since the beginning, we have been overwhelmed by the joy of our customers which has motivated us to expand the number of stores both in our country and throughout Europe. Today we have more than 200 employees, 20 stores and more than a million happy customers.
What distinguishes KitchenShop is, first and foremost, the quality! If you ever wanted the best knives with perfectly sharp edge, best non-stick frying pans, or saucepans that cook quickly and evenly, or any other well-made, modern and sturdy appliances, utensils, spatulas or graters, now you can have them all!
Next, at KitchenShop you will find honesty and fair prices. Here you have the guarantee of original products, always at their true prices and discounts. No marketing tricks.
Whether you're an amateur or a professional chef, you'll find everything you need at KitchenShop. Over 6000 top quality cookware and cooking tools are just one click away!
Join our club and you will get unique benefits (special discounts, money-back on every purchase, and much more).
We now deliver, rapidly, all over the European Union. It is our hope to build a great community of cooking enthusiasts across Europe!
Following our research, testing and experimentation, we partnered with the best manufacturers who are reinventing cooking today. They have developed innovative technologies that produce durable, easy-to-use products and accessories that make cooking a breeze, for everyone.
For KitchenShop we have chosen from the best brands available in the world. Enter into our site and you will find out why brands such as KitchenAid, Emile Henry, Demeyere, OXO, Staub or Zwilling J.A. Henckels are so loved worldwide. Search for the products that you want and give them a try.
You will taste the difference!